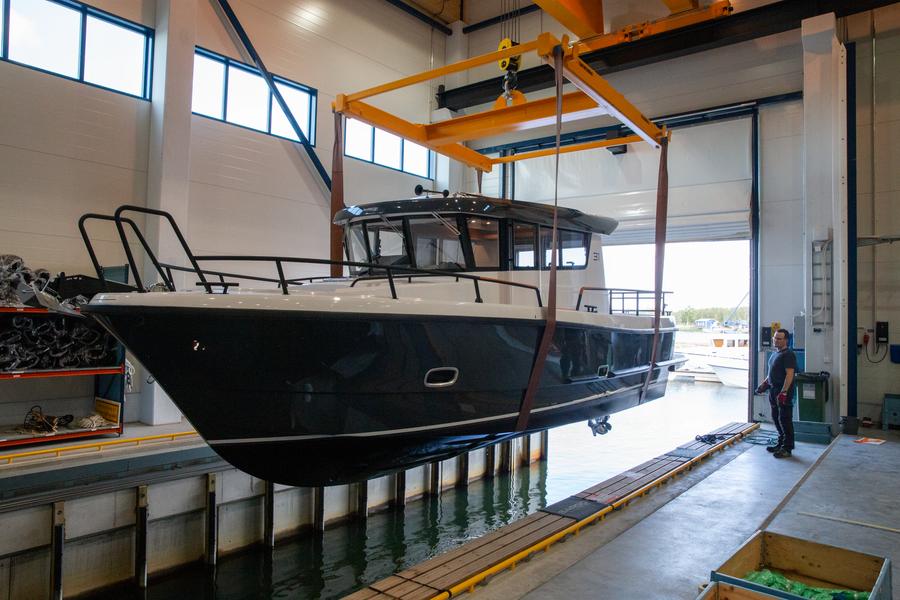 "WE BUILD BOATS WITH CARE AND HEART, SO THAT OUR CUSTOMERS CAN ENJOY MEMORABLE AND CAREFREE MOMENTS WHILE BOATING"
The Finnish boating industry is renowned for its well-made, top-quality boats. SARGO Oy Ab has taken its quality standards to the next level by using the SARGO Production System (SPS) method developed by SARGO Oy Ab. The method guarantees that the quality of SARGO's boats remains constant as each production stage is standardised. The boats are 100% hand-made in Finland, and highly-skilled boat builders are responsible for every stage of the building.
SARGO's boats undergo a rigorous quality inspection at the new boathouse before being handed over to customers. Every part of the boat is tested during the inspection: all electrical appliances are tested, the boat is subjected to a rain resistance test and even the hotplates are checked by boiling water on them. The Boathouse is the only facility in Finland to provide a year-round sea water test environment.
Every SARGO boat is a reflection of its owner: we call them semi-custom built boats as the customer can be involved in designing the boat's equipment and appearance. To ensure that our customers can enjoy their new boat for as long as possible, SARGO carefully selects the most durable materials and manufacturing methods. For example, we do not use any corrosion-sensitive materials on the outside of our boats or aluminium frames around the windows, which are easily damaged by sea water. These features extend the boat's life and also help to maintain its resale value.
The Sarin brothers' enthusiasm about boats and boat building is a guarantee that SARGO's boats are the best you can get.